Since 1993 the Rencontres du Vietnam, which is an official partner of UNESCO, has organised international scientific conferences and thematic schools to foster exchanges between Vietnamese or Asia-Pacific scientists and colleagues from other parts of the world.
The International Centre for Interdisciplinary Science Education (ICISE <http://rencontresduvietnam.org/>) in the city of Quy Nhon (Central Vietnam)  has the ambitious objective to focus on developing science and education, helping young Asian students and scientists to meet with the international science community, bringing the Kotaro Kohno (Univ. Tokyo, JP)​opportunity to accelerate their knowledge by attending lectures and sharing ideas with overseas high-level counterparts.
(Click on the picture to locate ICISE on Google Maps with satellite view,  or click here for standard view.)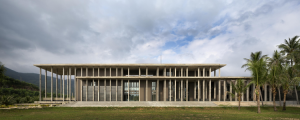 The new International Center of Interdisciplinary Science Education (ICISE) has been constructed in Quy Nhon, Central Vietnam and inaugurated in August 2013. To learn more about the project, its purpose and its history, please visit this web site.
To locate ICISE on Google Maps, please click here.
See pictures of the center (by Fernando Urquijo) and some pictures taken during the construction.
Conferences organized at ICISE
The list of previous conferences at ICISE can be found here.