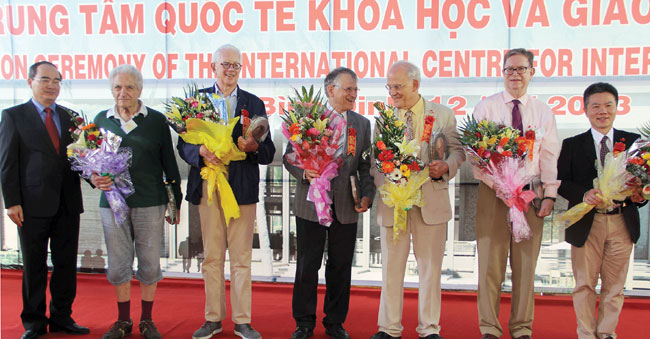 Deputy Prime Minister Nguyen Thien Nhan (first left) lines up with the five Nobel laureates and Fields medalist Ngo Bao Chau (first right). —VNS Photo Phuoc Buu
by Phuoc Buu
BINH DINH (VNS)— Government leaders, Nobel Prize winners, and leading international scientists yesterday attended the opening of a centre for interdisciplinary science and education in central Binh Dinh Province.
The centre, which was initiated – and backed financially – by Prof. Tran Thanh Van, chairman of the Association Rencontres (meeting) du Vietnam, is expected to serve as the nation's biggest centre for top level scientific activities.
The ceremony was conducted with the theme Windows on the Universe.
Deputy Prime Minister Nguyen Thien Nhan said the centre was an important milestone for the international integration of the scientific community.
"The participation of large numbers of international known scientists emphasises the significance of the event," he said.
He said co-ordination in research between Vietnamese scientists and the rest of the world had kept pace with global scientific development.
Nhan said the Government now had a firm realisation of developing basic science and had developed national programmes to promote mathematics and physics.
"The development of science and technology along with education and training is a top priority. It is also the key factor for rapid and sustainable development," he said.
Deputy PM Nhan said the Government appreciated the participation of more than 200 international scientists and efforts by Professor Van and his wife, Professor Le Kim Ngoc in organising the event.
The new centre covers 200,000 square metres set in a valley looking out to sea. It includes a conference hall, hotel, restaurant, bungalows, sporting facilities and coffee shops.
The Association Rencontres (meeting) du Vietnam, which was founded by Professor Van and Professor Nguyen Van Hieu in 1993, paid for the entire centre.
Professor Van said he expected the centre would be a destination for scientific seminars and reseach.
American Nobel laureate Sheldon Lee Glashow said the centre would help educate and inspire generations of young science students from Viet Nam and its Asian neighbours.
Glashow said the centre would disseminate scientific discoveries throughout the world as well.
Le Huu Loc, chairman of the Binh Dinh Province People's Committee said much had to be done to complete the centre, but local authorities pledged full support.
Windows on the Universe
The symposium Windows on the Universe opened with two key lectures on general sciences by American Nobel winner Professor Sheldon Lee Glashow and German Nobel Laureate Professor Klaus von Klitzing.
Activities include presentations and discussions for young physicians and post-doctoral researchers.
Laureate Rolf Heuer, director of the European organisation for Nuclear Research (CERN), will also deliver reports on physics research.
Van said the presence of five Nobel laureates would encourage young Vietnamese.
"A small gift of a book to the student by the laureates would be great encouragement," said Van. — VNS
Source: Việt Nam News
Link: https://vietnamnews.vn/society/243393/research-centre-opening-a-milestone.html