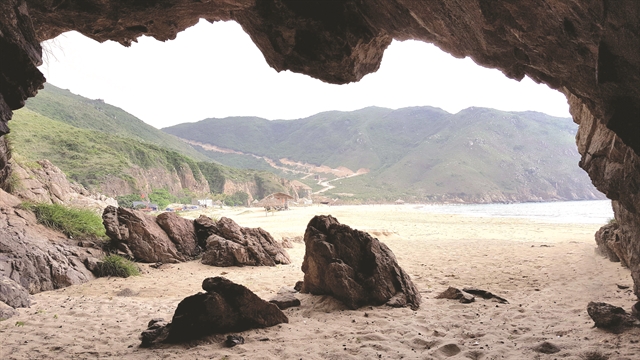 By Hà Nguyễn
Bình Định is considered a paradise in Việt Nam's central region for its many pristine beaches and islands as well as its cultural and historical sites.
They include Hòn Khô, Eo Gió, Hầm Hô, Phương Mai Sand Dunes, Cù Lao Xanh, the Chăm tower system, famous art of bài chòi (a diverse art combining music, poetry, acting, painting and literature) and traditional festivals such as martial arts and specialties of aromatic flavours.
Nguyễn Văn Chiến, a veteran in Hà Nội who had fought against US troops in Bình Định during the American War, said he and a group of his friends will celebrate the national victory on April 30 by touring the province to visit Hầm Hô in Tây Sơn District's Tây Phú Commune.
Chiến's friend, Huỳnh Long, said Hầm Hô is a location where the two rivers of Đồng Hưu and Cát meet the Phú Phong River. Along the riverbanks are blocks of stone and ancient trees.
Under the water are colourful granite stones, iridescent like diamonds.
The water winds through rapids, while birds sing overhead.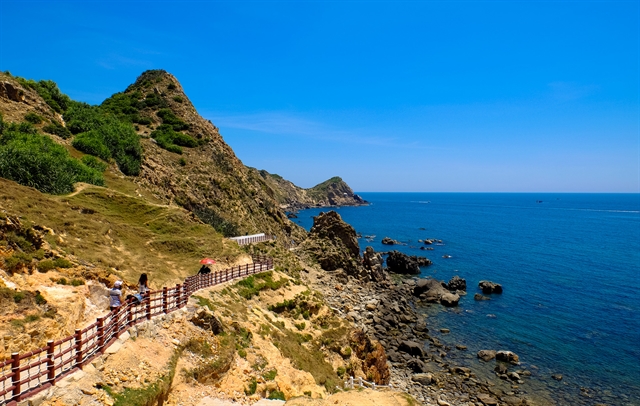 "It feels like paradise," said Chiến, adding that streams in Hầm Hô are full of different fish, particularly during flooding season when many return upstream.
"During those times, I can catch 20-30kg of fish a day," said Long, adding that travellers enjoy camping in the wilderness. They can grill đối fish or boil fragrant snails they catch from the water, accompanying the dishes with traditional Bàu Đá rice wine.
Late in the evening Long led the Hanoian veterans to stilt houses hidden among the trees.
The streams in Hầm Hô help cool the area during summer. When spring comes the location bursts with the colour of wild flowers.
During their stay in Hầm Hô, the group also visited Bình Định Museum, which display hundreds of images and documents relating to soldiers who died during the wars against the French and Americans.
Stories of heroes
At the museum, Chiến and his group heard stories of many heroes including Ngô Mây (1922-1947), Võ Lai (1939-1968) and Trần Thị Kỳ (1947-1966).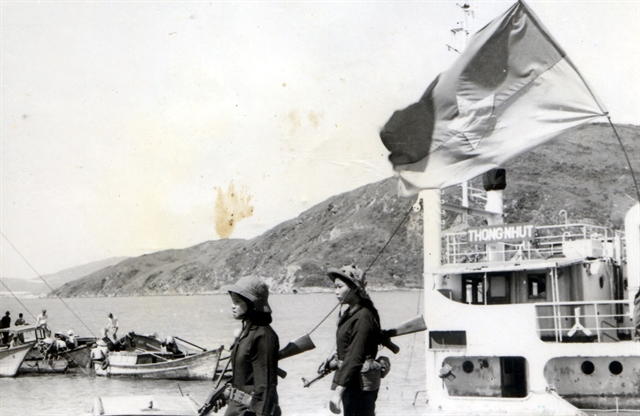 Museum curator Nguyễn Văn Lợi told the guests that Ngô Mây, from Bình Định's Phù Cát District, joined the army in 1947. He was assigned to the company of Military Region 5. His company included 160 soldiers. They were equipped with 12 rifles, five bombs, a number of grenades and machetes.
On October 22, 1947, he bravely sacrificed himself after approaching French vehicles with a bomb. He killed a platoon of troops at the Rộc Dứa front about three kilometres from An Khê town, said Lợi.
He was posthumously honoured for his service in 1955. Many communes, wards, roads, and schools in the central region, carry his name. They include Ngô Mây Wards in Quy Nhơn and Kon Tum cities.
Apart from Mây, during the war against the US, the story of hero Võ Lai from Bình Định's Tây Sơn District moved Chiến and his group.
"At 27, Lai had taken part in 48 battles," said Lợi.
On December 16, 1965, his unit was marching to Bình Thuận Commune (a newly liberated area) to help locals improve infrastructure, Lợi told the visitors.
On December 18, the US bombed the area while troops invaded, killing many children and elderly people. Despite the danger, Lai and his unit occupied suitable positions and fight back against the enemy.
As a result, Lai's company killed 376 US troops and grounded 10 helicopters, causing them to withdraw from the commune.
In April 1966, during a fight against South Korean troops on the Bình An front, Lai and his unit fought bravely against the enemy. Despite being severely injured, Lai was determined to stay with his comrades-in-arms until he died that day, said Lợi.
Lợi continued to tell a story of young guerrilla and nurse Trần Thị Kỳ.
Kỳ was the fourth daughter of a poor farming family. Seeing the enemy destroy her commune, killing villagers and liberation fighters, known as Việt Cộng, she insisted her father allow her to join the army although she was still very young.
At that time, many injured soldiers from surrounding villages were being carried to Tân Đức Village. To save the fighters, Kỳ was assigned to a quick nursing course.
"She tried her best to help the injured soldiers. Thanks to Kỳ's patience and efforts, many men recovered and continued to fight against the aggressors," said Lợi.
One day in 1966, Kỳ was guarding injured fighters while they slept. On hearing a dog barking, she ran out and saw many South Korean troops marching towards the village.
She woke up the fighters and helped hide the patients in underground shelters. When all were safe, Kỳ returned to her own trench.
Unfortunately, the troops found her trench. They tortured Kỳ to find the location of the injured soldiers. However, the young woman resisted and took them to another location.
Discovering her deception, the troops burned her alive.
"Kỳ died at the age of 19. Her braveness is a model for us and the younger generation to follow," said Lợi.
5.5 million visitors 
Bình Định chairman Hồ Quốc Dũng said the province aims to welcome 5.5 million visitors, including 800,000 foreign guests, next year.
"We have developed a number of special tours of the sea and islands," Dũng said, adding that travellers will also have the chance to visit the province's 200 cultural and historical sites.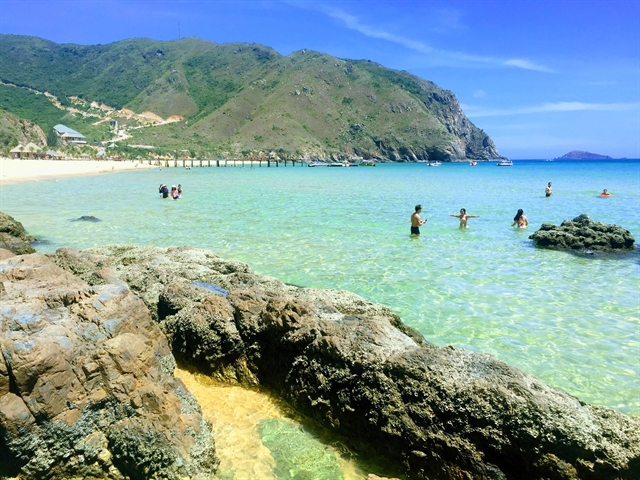 Bình Định plans to restore Quang Trung Museum, the Chăm Tower system and Hoàng Đế Citadel, while promoting traditional martial arts and spiritual tours to Đàn Tế Trời (an altar dedicated to heaven and earth) and Ông Núi Pagoda, said Dũng.
He said the province also wanted to make use the International Center for Interdisciplinary Science and Education (ICISE) established by overseas Vietnamese Prof.Trần Thanh Vân.
Each year the centre welcomes hundreds of scientists and researchers to discuss ways to boost science and technology in Việt Nam.
"Based on the success of this centre, we are building a scientific museum. It is hoped that these great tourism sites will lure more visitors," he said.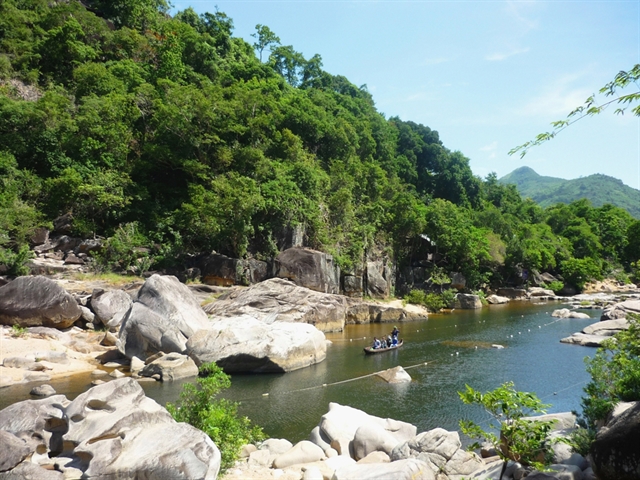 In fact, Bình Định itself and leading groups such as Marriott and Anphanam have invested billions of đồng to upgrade infrastructure linking the airport to beautiful spots, relics and tourism sites.
As a result, visitors to the province have been increasing. Phù Cát airport has increased flights to 49 a week, double the figure of 2017. VNS
Source: Việt Nam News
Link:https://vietnamnews.vn/sunday/features/519256/binh-dinh-a-paradise-in-central-viet-nam.html