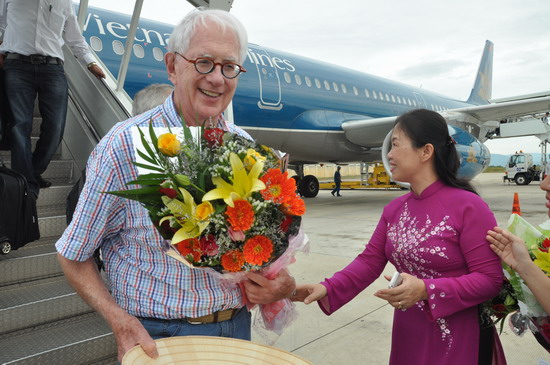 Prof. Sheldon Lee Glashow.—Photo baobinhdinh

BINH DINH (VNS)— Four American Nobel laureates arrived in central Binh Dinh Province yesterday to attend the 9th "Meeting Viet Nam" event – a scientific symposium which starts today.
The illustrious foursome are Prof. George Smoot, Prof. David J. Gross, Prof. Jack Steinberger, and Prof. Sheldon Lee Glashow. They will join fellow Nobel winner Prof. Klaus von Klitzing, who arrived last Thursday, to deliver keynote speeches at the conference.
The four Americans won their Nobel prizes for physics between 1988-2006, while German Prof. Klaus von Klitzing won the Nobel prize for physics in 1985.
The Nobel laureates, who are expected to inspire young Vietnamese scientists, will also participate in further scientific events being held around the country.
The symposium takes place at the International Centre for Interdisciplinary Science and Education in Quy Nhon City and is the brainchild of the Association Rencontres du Vietnam and its chairman Prof. Tran Thanh Van.
Prof. Van, who lives in France and was presented with the Legion of Honour Order by the French Government for his contribution to science, founded the association together with Prof. Nguyen Van Hieu in 1993.
Nobel laureates tell VN students to ask questions, find answers
Prof. Gross emphasised the relevance of basic scientific research and the importance of finding answers to questions about the origin of the universe and the nature of consciousness at a meeting with students in HCM City last week.
At the HCM City University of Science, American particle physics and string theorist Gross talked about the future of physics. He mentioned 25 questions, ranging from cosmology to biophysics, that are likely to guide the science over the next 25 years.
Gross was awarded the 2004 Nobel Prize in Physics along with Frank Wilczek and David Politzer for their discovery of asymptotic freedom. Their research helped explain how quarks, the elementary constituents of the atomic nucleus, are bound together to form protons and neutrons.
On Saturday, students gained a greater understanding of the universe, vacuum, space-time and quantum theories.
There are many wonderful questions about the universe young people can ask and find answers to, he said.
On the same day, lecturers and students of HMC City University of Technology listened to a talk by Prof Glashow who received Nobel Prize for Physics with Steven Weinberg and Abdus Salam in 1979 for their efforts in formulating the "Electroweak Theory" which explains the unity of electromagnetism and the weak force.
Glashow criticised the tendency to dismiss undirected research in particle physics, mathematics, cosmology, low-temperature physics and many other basic sciences as "useless and expensive endeavours that consume resources rather than promote economic growth and welfare. "
He said the belief that governments should only sponsor research that is likely to generate "immediate and specific benefits, either wealth creation or improvements in the quality of life" was an erroneous one.
"Had Faraday, Rongten and Hertz focussed on solving the 'real problems' of their day, we would have waited much longer for electric motors, X-rays and radios," he said. — VNS
Source: Việt Nam News
Link: https://vietnamnews.vn/society/243365/nobel-winners-visit-scientific-symposium.html