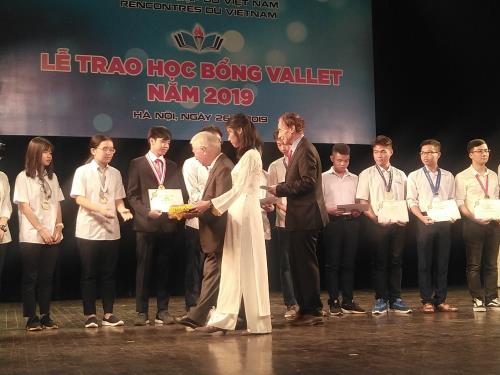 HÀ NỘI — More than 500 outstanding students from 58 high schools and six SOS children's villages in the north received Vallet scholarships at a ceremony in Hà Nội on Monday.
Prof. Odon Vallet, Vallet Scholarship sponsor; Prof. Trần Thanh Vân, Chairman of the Science and Education Association "Meeting Vietnam in France" and his wife, Prof. Lê Kim Ngọc attended the ceremony and awarded scholarships to the outstanding students.
Prof. Vân said "I hope that the scholarship winners today will continue their efforts on the path of learning and success, rising to become the leading scientists, and contribute to the country's development."
This year's scholarships had two types: VNĐ10.5 million (US$450) and VNĐ18 million ($770) each.
This year is the 19th year that the Vallet Scholarship has been awarded in the country. During the past 19 years, more than 35,000 Vallet scholarships have been awarded to Vietnamese students.
They were excellent students in urban areas, children of poor families in remote areas in Mekong Delta and northern mountainous provinces.
In France, also from 2000, Prof. Odon Vallet, through the introduction of Prof. Vân and Prof. Ngọc, gave over 100 scholarships to Vietnamese students living and studying in France.
Born in Việt Nam's central Quảng Bình Province in 1936, Prof. Vân studied in central Thừa Thiên-Huế Province and then travelled to France to continue his studies there. He held a doctorate in physics in 1963 with his scheme on the structure of protons and quarks. He was also one of three Asians awarded the Tate Order by the US Physics Association in 2012. — VNS
Source: Việt Nam News
Link: https://vietnamnews.vn/society/534561/vallet-scholarships-granted-to-more-than-500-high-school-students.html